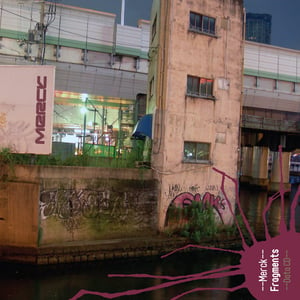 £

4.79
Data CD containing 700mb of music, pictures and art compiled in the final days of Merck Records.
Including 11 exclusive tracks from Blamstrain, Ilkae, Landau, Talve, Lackluster, proem, Tiki Obmar, Esem, Tim Koch and Cepia, over 6 hours of proem live sets, and jpeg art galleries featuring over 150 images from Fthr productions, as well as behind the scenes merck pictures and cover/label artwork from the labels entire discography. All this for half the price of a standard album.
Limited to 1000 copies worldwide.
(NB: This is a data CD-ROM for use on a computer, it will not play in standard audio CD players unless they have appropriate mp3 functionality.)
Exclusive Tracks (MP3 format)…
1. Blamstrain Spring-Summer (2001 Mix) 7.36
2. Ilkae Luminette (Landau Remix) 6.21
3. Ilkae Rusty Mittens (Talve Remix) 7.22
4. Lackluster 030503 5.35
5. Proem Array Shuffler 3.37
6. Talve Theres Always A Girl 7.48
7. Temp Sound Solutions Phrt 5.57
8. Tiki Obmar I I I Was (Remixed By Esem) 4.48
9. Tiki Obmar Lilypads (Lackluster Remix) 6.19
10. Tim Koch Vakohai (Talve Remix) 5.50
11. Tim Koch X To M (Cepia Remix) 4.00
Proem Live Sets (MP3 format)...
1. Proem Live At KTRU (06-15-2001) 47.20
2. Proem Live At KVRX (10-09-2001) 42.29
3. Proem Live At Amoda (03-12-2002) 54.45
4. Proem Live At Slightly Bent (11-22-2002) 23.51
5. Proem Live At Emos (04-24-2003) 41.54
6. Proem Live At Austin (07-13-2003) 50.38
7. Proem Live At Oscillate (10-16-2004) 28.30
8. Proem Live At LSR (03-19-2006) 28.14
9. Proem Live At Digitalnimbus (10-20-2006) 49.22
Image Galleries (JPG format)…
1. Fthr Productions
2. Merck Cover Art
3. Merck Collection